douglassmith
- Wed, 2012/11/14 - 11:10pm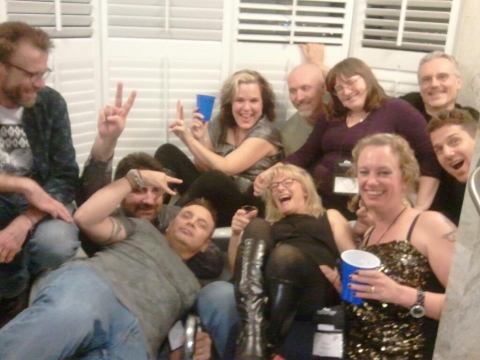 So here is my very late and abbreviated report from attending World Fantasy Convention in Markham (yes, Markham, not Toronto) two weekends ago. First, I had much fun and spent the entire weekend catching up with old friends, making new ones, and talking business. 
What? That picture at the left? Ah, well, that is the already famous "A tub full of authors" from the epic (EPIC!) ChiZine Publications party on Saturday night. But then, all CZP parties are epic. EPIC! From left to right, the peeps in the pic are: Brent Hayward, David Nickle, Rio Youers, Halli Villegas, Susie Moloney, Derryl Murphy, Gemma Files, Marcy Italiano, me and Tone Milazzo. (Tone, seeing that all of him that got into the pic was his head, commented: "Apparently I got naked for nothing.") And yes, this is how CZP stores their authors when they're not using them.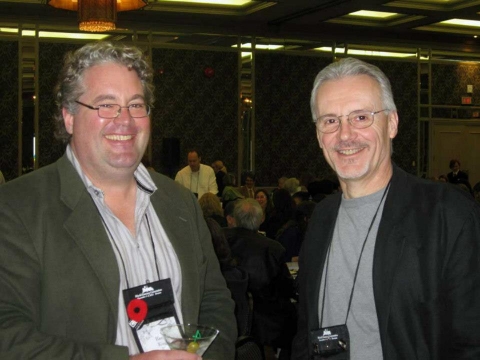 At the right is a pic of me with friend, fellow writer, and CZP website ninja, Barry King, at the World Fantasy Awards banquet on Sunday. We sat at one of four CZP tables. CZP was nominated, but sadly did not win.
I decided not to do panels this time and instead just enjoy the con. I did one reading (and thanks to all those who showed up at 10am on Sunday after the big party night to hear me read. Much appreciated!). I read from my latest story, "The Walker of the Shifting Borderland" from the fall issue of On Spec that was released at the con. I didn't even get to any panels. Every time I started to walk somewhere, I'd run into someone and end up talking for half an hour. Which was great! Best kind of con, imo.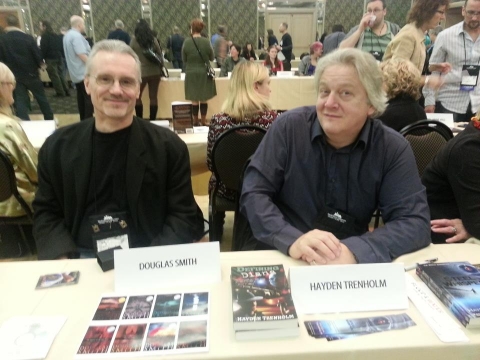 I did get to hear Charles de Lint do a reading, and finally had the opportunity to meet him face to face after that and chat for a while. Major fan boy moment for me, and he's just as nice as all his characters would lead you to believe, by the way.
And one last pic, on the left, of me and friend, fellow writer, and editor, Hayden Trenholm, at the mass signing on Saturday. It was a fun weekend and a very well run con, and all involved seemed to have a great time.