douglassmith
- Tue, 2011/06/14 - 1:00pm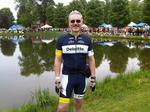 I did it! This past weekend, June 11-12, I was one of over 4,600 cyclists who rode in the 2-day major cycling event called The Enbridge Ride to Conquer Cancer. This is the fourth year for the Ride, which this year raised a record $17.5 million for The Princess Margaret Hospital in Toronto, to support cancer research, treatment, and services. The Princess Margaret is Canada's leading comprehensive institution devoted to cancer research and care. And with help from many of you who read this blog, I raised $4,185 myself. Thanks to all of you who supported me!
I went into this weekend wondering whether I'd trained enough and if I'd struggle through this. I'd had a minor knee operation in April, so I didn't really get to do much training until early May. I managed to get about 400+ km in before the ride. But I had a great new bike, which I quickly fell in love with. A few years back, I switched from a road/racing bike (thin tires, curved handlebars) to a mountain bike and started doing more off-road riding. But my full mountain bike was too heavy and the tires are far too wide to push them along for over 200km, so I bought a new Trek Montare, a 27-gear hybrid (cross between a road and a mountain bike) with "slicks" (road tires instead of the wider, knobby, mountain bike tires). It's also a better bike for the kind of riding I generally do these days, which is mostly bike paths with some dirt trails, so I'll get more use out of it after the Ride as well.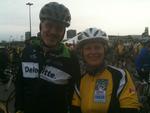 So what was the Ride like? Exciting, fun, intense, exhilarating, totally immersive, tiring, fulfilling, rewarding, all rolled into one. We gathered at the CNE grounds in Toronto early Saturday morning (I was there at 6:30am, which was probably the hardest part of the ride for a non-morning person like me!). I picked up my bike from the secure drop-off area where I'd left it the night before, grabbed some breakfast, and then found my riding mates (not an easy job in a crowd of almost 5,000. What did we do before cell phones?): Kamal Ahluwalia, a friend from work, and Melissa Gold, a long-time friend from my writing life. Melissa had done the Ride last year, so she was a great help to newbies like Kamal and me. The opening ceremonies were (a) astoundingly loud, and (b) very moving, with cancer survivors telling of their own journey or remembering people they'd lost to cancer. After the ceremonies, the Ride began. I thought that there would be some sort of staging of groups leaving by their entry numbers or something, but it was just a large crowd funneling out through the exit at the west end. And with us being Canadians and all, it all went very smoothly and politely, no crowding or pushing.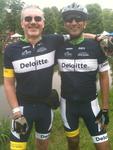 I'd never ridden in a large group before, and it is certainly a different experience from riding solo or with just a couple of friends. You're surrounded by cyclists, each moving at a different pace, and you need to be constantly aware of riders ahead of you, beside you, and behind you. You need to follow the safety rules for riding in a group: stay to the right, only pass on the left, check behind you before you pull out in case a faster rider is about to pass you, call out "On your left" to the rider that you're passing so that they don't suddenly swerve into you. Exciting and intense, especially at the start of Day 1, when you are in the middle of thousands of riders for the first hour. At the start, we were riding along Lakeshore Blvd, taking up all the lanes, ten riders across or so, then it narrowed down to a couple of lanes when we turned on to the Queensway. There were cops at most intersections (and all intersections with stoplights, I think) and RTCC volunteers at others that were less busy. Being able to ride right through a red light with hundreds of other cyclists while the cars sit and watch you go by definitely provides a unique buzz. There were also designated "cheering stations" along the route, where people gathered to cheer us on, which brought another buzz as we passed. Many of the riders wore the names of someone who they were riding for, a survivor or someone they'd lost to cancer, a constant reminder of what the Ride is all about.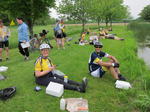 There were three pit stops plus a lunch stop more or less evenly spaced along the routes on both days. Each pit stop offered pretty well everything a cyclist might require mid-ride: food (energy bars, fresh fruit, cookies, salty snacks, etc.), refill stations for water and Gatorade bottles, a medical tent, more food, sunscreen, glop for lubricating those sensitive areas where you and bike seat meet, Tylenol and Advil, bike repair tents, and more food. And yes, lots of porta-potties. Plus, in most cases, green grass to lie down and do your stretches. And the lunch stops also provided prepared box lunches (yes, more food -- I don't think I've ever eaten so much over two days in my life). The Day 1 route took us through 114km (by my and most riders' count, although the RTCC claimed it was less) from the CNE to the overnight camp at Mohawk College. The forecast had been for thunderstorms and heavy rain, but amazingly, except for an odd drop late in the ride, we had no rain all day. Day 1 ended with a long slow climb up Hamilton mountain, the only hard part in the entire two days, but I made it and was very proud that I still had two unused low gears left.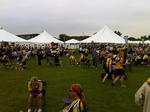 The overnight camp had everything the pit stops offered and more, including free beer (probably just as well this wasn't an option at the pit stops), plus massages but the lineup for those was so long that we eventually gave up waiting. We wimped out on the tenting option at the campground, and opted for private dorm rooms at McMaster (good decision based on comments the next day from the campers), complete with bus shuttles to and from. The organization around the entire event was very impressive, and I'd struggle to suggest improvements (aside from more massage cots).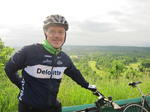 The Day 2 route started with this gorgeous view from the mountain, and gave us perfect weather for cycling, mostly sunny, a little cool. The route took us through the beautiful wine country of Niagara, with no big hills but lots of rolling up and down country roads, with one unscheduled stop at the Welland Canal as the bridge was up for boats to pass. Finally, after about 103km, we rolled across the finish line just above Niagara Falls, down a road lined with cheering crowds and an announcer calling out our names (each rider's bike has a nameplate attached). It was a very cool way to finish, and really added to the feeling of accomplishment and satisfaction.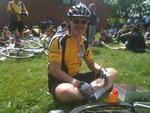 Yes, it was tiring, but surprisingly not as much as I'd expected, and I was amazed that I wasn't even sore on Monday morning (although I didn't try sitting on the bike [grin]). Would I do it again? Definitely, and I'm planning to participate in 2012, when they will be adding more route options, including starting in Niagara Falls and ending in Toronto. But cycling in to a finish line beside one of the natural wonders of the world is hard to beat, so I might just do the same route. Anyway, it was a fantastic life experience, and I wanted to thank all of you who generously supported my ride and the fight against cancer with your donations. Thank you all so much!