Submitted by
Douglas Smith
on Mon, 2010/03/15 - 6:28pm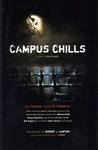 My short story, "Radio Nowhere," is one of five stories on this year's final ballot for Canada's Aurora Award. Read more about the Aurora's here, including how to vote. If you'd like to read "Radio Nowhere," I've put it up online here and will keep it up on my site until voting closes on May 22. I may also add some photos to the online story from when I went back to the University of Waterloo campus to research the story (ever so many years after my student days).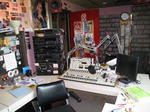 The research was both nostalgic and a lot of fun. One of the advantages of being a writer is that people always seem willing to help you with your research, and you often get into some very cool places that you'd otherwise probably never get to see. For this story, I had help with my research from James "Road Dog" Walker, a veteran dj at the campus radio station, Radio Waterloo, CKNW 100.3. James gave me a tour of the station and patiently answered all of my questions about how a radio show actually works. Here's a shot on the right of one of the CKNW control rooms.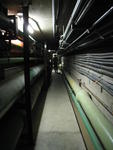 Rick Zalagenas, Director of Maintenance and Utilities at UW, was also extremely helpful in a key piece of research for the story: the infamous steam tunnels that run under the campus. Rick kindly gave me a tour of a large part of the tunnels, which for me was the coolest part of the research. The tunnels were a thing of legend when I went to UW, and I'd heard the stories over the years, but had never actually been down into this labyrinth. They were just as creepy as I'd hoped and fit the story perfectly. The picture on the left shows a shot of one area of the tunnels.

So give "Radio Nowhere" a read if you have time, and if you like, please consider voting for it in the 2010 Auroras. Thanks!