douglassmith
- Fri, 2014/08/01 - 1:43pm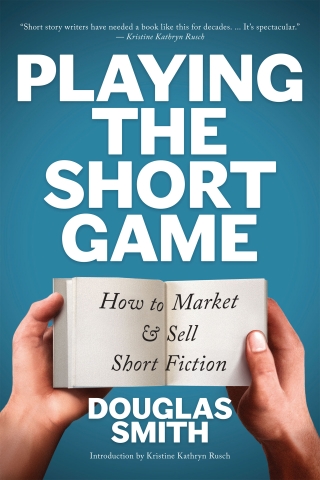 I am thrilled to announce that I have a new book coming out in September, my first non-fiction project. 
If you follow this blog, you'll remember that I wrote a 32-part blog series for Amazing Stories from 2012-2013 aimed at helping writers learn how to best market and sell their short fiction. I have now repackaged those posts into a book titled Playing the Short Game: How to Market Sell Short Fiction.
The book is completely updated and reorganized, with new material not in the blog series, plus an introduction from multi-genre, multi-award winning writer and editor, Kristine Kathryn Rusch. Here's an extract from Kris's intro:
Douglas Smith is the best person to write this book. ... He's one of the few people who has probably published more short fiction than I have, and in more countries, and more high-paying markets. He loves the short story as much as I do, and he's good at writing them.

 

He's just as good at the business side of the profession. He knows more about marketing short stories to other countries than I do. He understands how to manage short fiction contracts very well. He's up-to-date on 21st century publishing practices, and he has a toughness that the best business people need.

 

We short story writers have needed a book like this for decades. I'm glad Doug decided to write it. Read and reread this volume. Because you'll learn something each time you do. And take Doug's advice. It's spectacular.

 

Don't take my word for it. Turn the page and dive in. By the time you're done, I'll wager you'll be recommending this book to your writer friends—just like I have.

 

—Kristine Kathryn Rusch
Thanks, Kris!
Playing the Short Game will be coming out this September, but you can pre-order it now at a reduced price from select sites listed below.
Now, here's a summary of what the book covers.
About the Book
Take your first step to becoming a professional short fiction writer—Buy this book!
In an engaging and conversational style, award-winning author Douglas Smith teaches you how to market and sell short stories—and much, much more:
The Fundamentals: The different types of writers. The benefits of short fiction. Rights and licensing.
Selling Your Stories: Knowing when it's ready. Choosing markets. Submitting stories. Avoiding mistakes. How editors select stories. Dealing with rejections. When to give up on a story.
After a Sale: Contracts. Working with editors. What your first sale means. Dealing with reviews.
A Writer's Magic Bakery: Selling reprints. Foreign markets. Audio markets. Selling a collection. The indie option.
Becoming Established: Leveraging your stories. Discoverability and promotion. Career progression in short fiction.
Buying Links
The book will be released in both ebook and print editions in September 2014, but you can pre-order your copy now at the reduced prices shown below.
Ebook (Pre-order now):
For the month of August, you can pre-order the ebook edition at the reduced price of $7.99 (reg price $9.99): 
Trade paperback (Pre-order now):
For the month of August, you can pre-order the print edition from my bookstore at the reduced price of $17.99 (reg price $19.99): 
Trade paperback – autographed & personalized (Pre-order now):
For the month of August, you can pre-order a personalized and autographed print edition from my bookstore at the reduced price of $24.99 (reg price $29.99):