douglassmith
- Sat, 2014/03/22 - 12:20pm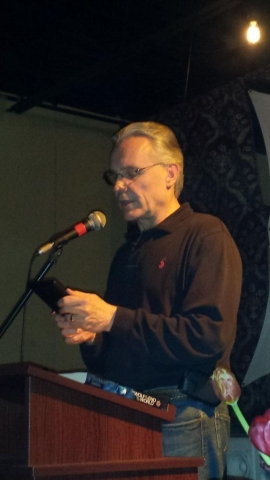 I was one of three authors at the Toronto ChiZine reading series event at The Round in Kensington last week. Here's a pic of me reading from THE WOLF AT THE END OF THE WORLD on my Kobo.
The other authors were Terri Favro (THE PROXY BRIDE) and Stan Rogal (OBSESSIONS), who did two wonderful readings. In between the readings, we were all entertained by two incredibly talented performers: Kari Maaren, the ChiSeries Toronto's resident ukelele comedienne (Album: BEOWULF PULLED MY ARM OFF) and Peter Chiykowski (co-creator of the Kickstarter darling, HALF-CAT).
Thanks to Sandra Kasturi and Brett Savory, co-publisher / owners of ChiZine, for hosting this series and for including me in the lineup. And thanks to everyone who came out.
The Round has been completely renovated since my last visit when it was the Augusta House. It makes a great venue for this type of evening. Comfortable and intimate, with a good stage and sound, lots of seating and room to move around and mix and meet, and very gracious hosts. Check out the ChiSeries, which now runs in Vancouver, WInnipeg, Ottawa, and Toronto. More info at the ChiZine website.