douglassmith
- Thu, 2013/10/31 - 9:54am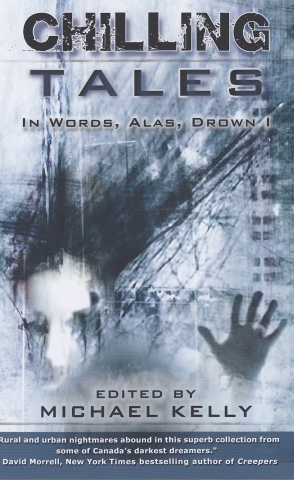 Over two years ago, I'd posted about the sale of my story "Fiddleheads" to the anthology Chilling Tales 2: In Words, Alas, Drown I. Well, the book has finally been released and is now available.
This is only the second time I've sold to what I'd call a clear "horror" market, the other time being "By Her Hand, She Draws You Down." Horror is not a genre I generally aim at, but I write the stories that show up in my head, and this one came out that way.
Here's an excerpt from the back cover copy:
"Canada's maestro of the macabre, Michael Kelly, brings you CHILLING TALES: In Words, Alas, Drown I, an all new collection of nightmares that will perturb and torment you. Tales that will leave a frisson of fear and raise a quiver of gooseflesh. A chill is in the air."
With an introduction by editor Michael Kelly, the book contains a fantastic representation of Canadian dark fantasy and horror writers. I'm proud to have a story in a book edited by Michael, and to be included in this amazing roster of authors. Here's the table of contents:
In Libitina's House by Camille Alexa
Gingerbread People by Colleen Anderson
Meteor Lake by Kevin Cockle
Homebody by Gemma Files
Snowglobes by Lisa L Hannett
The Dog's Paw by Derek Künsken
The Flowers of Katrina by Claude Lalumière
Goldmine by Daniel LeMoal
The Salamander's Waltz by Catherine MacLeod
Weary, Bone Deep by Michael Matheson
The Windemere by Susie Moloney
Black Hen A La Ford by David Nickle
Day Pass by Ian Rogers
Fiddleheads by Douglas Smith
Dwelling on the Past by Simon Strantzas
Heart of Darkness by Edo van Belkom
Fishfly Season by Halli Villegas
Road Rage by Bev Vincent
Crossroads Blues by Robert J. Wiersema
Honesty by Rio Youers
Check it out here.