douglassmith
- Wed, 2012/05/30 - 9:34pm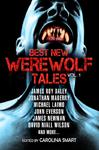 My urban fantasy story, "Out of the Light," appears in Volume 1 of a new anthology series, Best New Werewolf Tales (publisher: Books of the Dead; editor: Carolina Smart). "Out of the Light" first appeared in Dark Wisdom Magazine in 2007 and is included in my collection Chimerascope. The story was actually selected as an Aurora Award finalist in 2008, but I elected to drop it from the ballot so it wouldn't compete with another of my stories, "Dancer at the Red Door." Didn't work. Still lost. Here's the teaser from the ebook version of this story:
Jan Mirocek used to be a hunter. A very special hunter. Once, he had hunted the things that haunt the forests of the night in every culture of the world. The kallikantzari of Greece. The loup-garou of France. The kitsune of Japan. Were-beasts. Shape-shifters.
Until one night, Jan made a mistake, and the woman he loved died. Now he shuns the dark and his own past, hiding in a big city. For the were-beasts never come here.
Or do they? People are dying in Toronto, and all signs point to a shifter. But can Jan conquer his own fears to track down the killer? And what kind of shape shifter would be at home in a modern city?
Best of luck to Books of the Dead on the series and fingers crossed for Volume Two, since I've had a story selected for that one, too [grin].