douglassmith
- Mon, 2013/03/04 - 3:05pm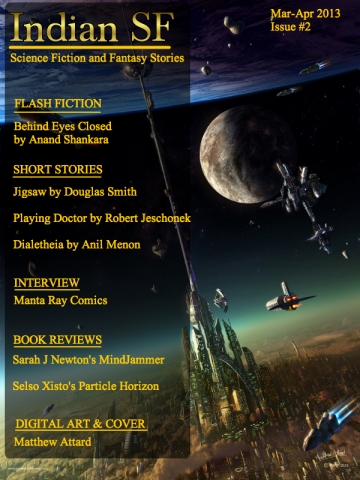 My science fiction short story "Jigsaw" has been republished in issue #2 of the relatively new bi-monthly webzine, India SF. which brings me to thirty countries in which I've been published. "Jigsaw" first appeared in the Julie Czerneda-edited young-adult anthology, Odyssey, in 2004. It was a finalist for the Aurora Award in 2005. It is also, for some reason, my best selling short story ebook. Here's the story blurb:
Humans are just beginning to explore the outer reaches of our solar system when the wormships are discovered outside the orbit of Pluto.
  
Abandoned? Lost?
  
Or left to be found? Found with charted wormholes in Sol System. Found with incredibly ancient yet perfectly functioning Wormer technology.
  
Five years later, humanity is exploring the stars.
  
But now something has gone wrong with the perfect Wormer technology. The orbit of the wormship, The Johannes Kepler, is decaying, and Cassie Morant, ship geologist, has less than twenty-four hours to solve a planet-sized, eons-old puzzle--or the entire crew will die. Cassie's good at puzzles, but this one has a piece missing. A big piece.
  
Now Cassie has one last chance to save the ship and the man she loves. But time's running out...
If you're interested, you can check out reviews of the story and buy the ebook version of "Jigsaw" in my online store. Don't forget to use one of the discount coupons if you'd like to buy something.