Submitted by
Douglas Smith
on Thu, 2017/11/09 - 1:38pm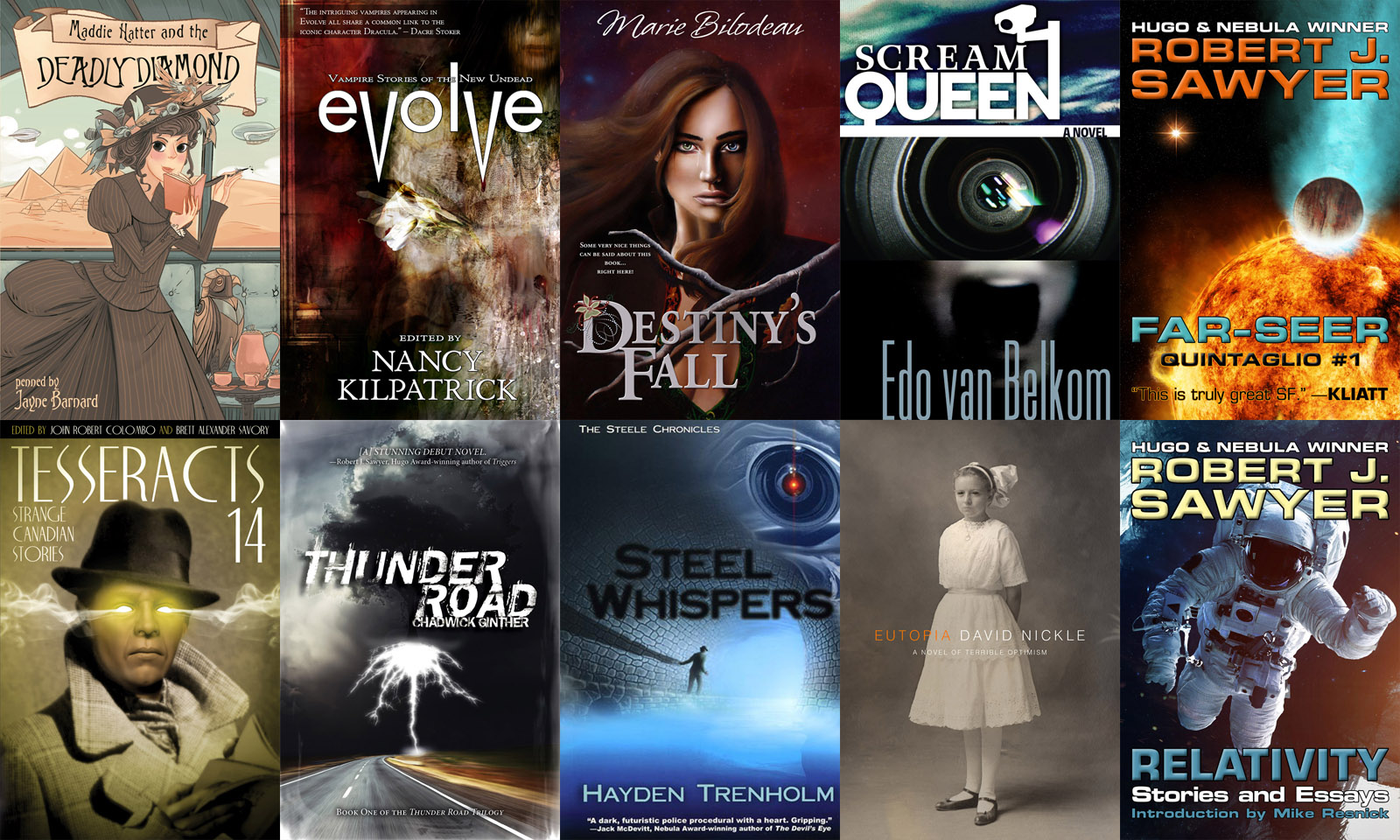 How would you like to own, at an incredible bargain, ten books that readers like yourself have already voted to be the best examples of speculative fiction published in Canada? Well, here's your chance. I'm once again curating an ebook bundle for StoryBundle.com of winners and finalists for Canada's premier speculative fiction award, the Aurora Award.
The Auroras are awarded annually by the Canadian Science Fiction & Fantasy Association (CSFFA) for excellence in Science Fiction and Fantasy. Introduced in 1980 as the Casper, it was renamed the Aurora Award in 1990. I'm honored to have won the Aurora three times and to have been on the final ballot another sixteen.
This Aurora bundle again delivers a great mix of speculative fiction genres: SF, fantasy, urban fantasy, horror, steam punk, as well as young adult. The titles reflect the long history of the Auroras, spanning nearly a quarter century of Canadian speculative fiction from 1993 to 2016.
This bundle also provides a great introduction to several wonderful series, including the first title in three separate series and the second book in two more (which can be read as stand-alone titles). And the bundle lets you sample the rich tradition of Canadian short speculative fiction, with two acclaimed anthologies and a collection.
For StoryBundle, you decide what price you want to pay. For $5 (or more, if you feel generous), you'll get the basic bundle of four books in any ebook format worldwide:
Destiny's Fall by Marie Bilodeau
Maddie Hatter and the Deadly Diamond by Jayne Barnard
Evolve edited by Nancy Kilpatrick
Scream Queen by Edo van Belkom
If you pay at least the bonus price of just $15, you get all four of the above titles, plus six more:
Far-Seer by Robert J. Sawyer
Tesseracts14 edited by John Robert Colombo and Brett Savory
Thunder Road by Chadwick Ginther
Steel Whispers by Hayden Trenholm
Eutopia: A Novel of Terrible Optimism by David Nickle
Relativity by Robert J. Sawyer
The bundle allows easy reading on computers, smartphones, and tablets as well as Kindle and other ereaders via file transfer, email, and other methods. You get multiple DRM-free formats (.epub and .mobi) for all books!
Check out the bundle here for more information and details on each of the included titles. And remember, it's available for a very limited time only, from today until November 30 at midnight.
#SFWApro