douglassmith
- Mon, 2012/12/24 - 2:55pm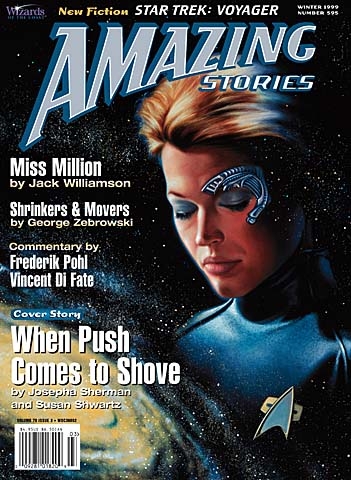 On Wednesday, January 2nd, 2013, I will be joined by more than 50 other writers from around the blogosphere to help launch the Beta Test of Phase 1 of the return of Amazing Stories. I'll be writing a blog series, aimed at new or beginning writers, on how to market and sell your short fiction. 
For me, it is especially very cool to be part of the relaunch of Amazing Stories. One of my first professional sales was to AS back in the late 90's ("State of Disorder" in issue #595 -- see the cover at the left) when Kim Mohan was the fiction editor. I still remember the thrill of being in an issue with Jack Williamson and Frederic Pohl. Back then, AS was also one of the few magazines with a circulation large enough to be a "qualifying publication" for the John W. Campbell Award for Best New Writer. My sale to AS eventually led to me being one of five finalists on the 2001 Campbell ballot (I lost).
Amazing Stories was the world's first science fiction magazine.  Published by Hugo Gernsback, the Father of Science Fiction, the magazine created the genre's first home and was instrumental in helping to establish science fiction fandom – the fandom from which all other fandoms have evolved.
The magazine itself ceased publication in 2005. In 2008 the new publisher, Steve Davidson, discovered that the trademarks had lapsed and applied for them.  The marks were finally granted in 2011.
Phase 1 introduces the social networking aspects of the site and the Blog Team, more than 50 authors, artists, collectors, editors, pod casters, designers and bloggers who will address 14 different subjects on a regular basis – SF, Fantasy & Horror literature, anime, gaming, film, television, the visual arts, audio works, the pulps, comics, fandom, science and publishing. 
If any of you are interested in participating in the Beta Test of the site, you can request an invitation by emailing the publisher, Steve Davidson.
And here is a link to the official press release from Steve.