douglassmith
- Sun, 2014/11/16 - 2:10pm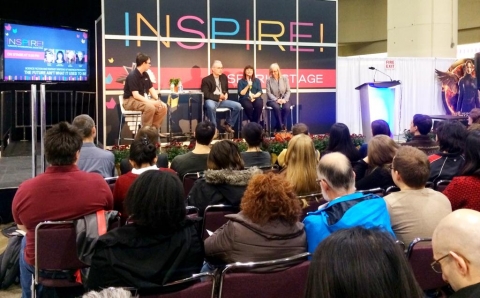 As I mentioned earlier, I was one of the author presenters this weekend at INSPIRE!: The Toronto International Book Fair. Yesterday, I had the great pleasure to be on a panel on the Spark Stage at the TIBF with friends and fellow writers, Julie Czerneda and Stephanie Bedwell-Grime, and got the chance to meet Ottawa writer, Andrew Barton, who ably moderated our panel on "Science Fiction: The Future Ain't What It Used to Be." We had a lively and fun discussion with plenty of interesting questions from a packed crowd. Here's a pic of the panel in progress taken by Crystal Huff, who was at the Fair promoting the Helsinki 2017 WorldCon bid.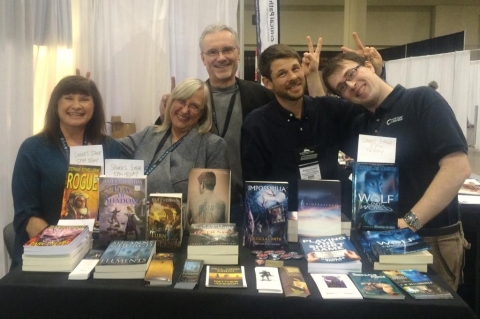 Before and after the panel, I signed books and helped staff the SFWA booth with fellow SFWA authors from our panelists and other SFWA authors. Here's a photo of the motley crew. Left to right, that is Stephanie, Julie, me, our Canadian SFWA rep, Ottawa writer Matthew Johnson, and Andrew. Not in the picture but also staffing the booth all weekend was Jaym Gates, the SFWA Communications Director. Thanks to another writer friend, Mike Rimar, for taking the photo, and a special thanks to Matthew for coordinating the SFWA booth on behalf of all of us.
Earlier in the day, I managed to catch William Gibson being interviewed about his latest novel, The Peripheral, on the main stage. All in all, I was quite impressed by this inaugural TIBF. Everything was professional and well organized. The volunteer staff were consistently friendly, enthusiastic, and helpful, both for the panel and through the entire weekend. I look forward to another TIBF in 2015.