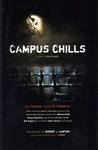 The 2010 Aurora ballot has been announced and posted, and the voting period is now open. Each year, the Auroras, more formally known as the Canadian Science Fiction and Fantasy Awards, recognize the best in Canadian speculative fiction. 
This year, my story "Radio Nowhere" is on the final ballot under "Best Short Form Work in English." "Radio Nowhere" appeared in the excellent Canadian anthology, Campus Chills (October 2009), edited by Mark Leslie. Read the story and its reviews here.
How to Vote
Update: Online voting is open until Noon May 22. Mail in voting is closed. Anyone who is a Canadian citizen (not necessarily living in Canada), or a permanent resident may vote for the Auroras. Here's the link to the voting site, where you may vote online or download and printout the PDF ballot:
Ballots are due by Noon May 22, 2010.
About the Auroras
This will be the 29th year that the Canadian SF and Fantasy Association awards (the "Auroras") will be presented. On a per-capita basis, the Aurora Awards have the largest voter turnout of any national SF award in the world, exceeding that of the American-dominated Hugos, the Japanese Seiuns, the British Arthur C. Clarke Awards, and the Australian Ditmars. Each year, a different convention or group hosts the awards. This year, they will be presented at KEYCON 27 in Winnipeg May 22-24, 2010.