Submitted by
Douglas Smith
on Sat, 2010/10/02 - 5:06pm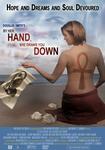 The September issue of Fangoria Magazine has an article and review of the movie adaptation of my story "By Her Hand, She Draws You Down." Here is an extract:
"With vampires currently enjoying their all-media heyday, it remains a challenge for writers and filmmakers to put a new and different spin on the bloodsucker story. Acclaimed Canadian writer Douglas Smith delivered just that, coming up with a unique twist in his short story "By Her Hand, She Draws You Down." When producer/writer/director Anthony G. Sumner and producer Alan Rowe Kelly read the tale, they contacted Smith and got his blessing to turn the disquieting story into a short film [with] a final reveal that emerges as quite unexpected, satisfying and sad. ... BY HER HAND's acting is superb, and it comes as no surprise that both Murdock and Chlanda took home awards for their efforts at the 2010 Oklahoma Horror Film Festival.... BY HER HAND, SHE DRAWS YOU DOWN is now hitting the festival circuit—and worth seeking out. "
You can read the full review here. I also came across this YouTube review of the movie.