Submitted by
Douglas Smith
on Thu, 2010/08/12 - 9:39am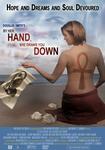 The movie based on my short story "By Her Hand, She Draws You Down" is competing in the Vampire Film Festival Trailer Contest in New Orleans! Cool! And you can view the entries and vote! Follow this YouTube link to view the trailer, and if you like it, please click on the "Thumbs Up" icon at the bottom! You'll need to log in to either your Google or YouTube account to vote. The story is not a pointy-toothed (or sparkly) vampire tale, but it is definitely a take on vampirism. Some selected reviews:"a haunting variant on the vampire legend with an understated and brutal ending."
—Publishers Weekly, Jan 2010
"Highlights among the stories include Douglas Smith's delightfully creepy 'By Her Hand, She Draws You Down,' about a young woman who is driven by a mysterious hunger to sketch people and steal their life force as her horrified lover looks on."
—Kristine Huntley, Booklist (the review journal of the American Library Assoc., 2002)
"...examines vampirism from an unusual and genuinely horrifying angle."
—Nick Gevers, SF Site Review, 2001
"I was reminded of the tone of some of Harlan Ellison's best work, particularly those collected in Deathbird Stories, where many of the protagonists seemed to be the unwitting victims of dark, irrational forces."
—Mike Driscoll, The Fix, November 2008
"...a title that rules. ...psychic vampirism, creepy street performers, the horrors of small coastal towns. And Smith took the story somewhere that surprised me. The twist is sustained."
—Jay Lake, Tangent Online, November 2001
Read all the reviews here. Hope that you'll check out the trailer! You can read more about the movie here: here.