"By Her Hand, She Draws You Down" selected for DragonCon
Submitted by
Douglas Smith
on Tue, 2010/08/03 - 4:37pm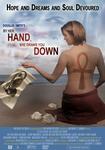 "BY HER HAND, SHE DRAWS YOU DOWN," the short film based on my story of the same name, is an official selection of the 2010 DragonCon Independent Film Festival!!! DragonCon is a huge 4-day genre convention with over 50,000 attendees spread over 4 hotels in Atlanta, complete with its own film festival. Congratulations to the cast and crew! Here's a list of the BHHSDYD's upcoming film festival appearances so far:
Here are some reviews of the original story:
"...a haunting variant on the vampire legend with an understated and brutal ending."

—Publishers Weekly

"...delightfully creepy...about a young woman who is driven by a mysterious hunger to sketch people and steal their life force as her horrified lover looks on."

 

—Booklist, the review journal of the American Library Assoc.

"I was reminded of the tone of some of Harlan Ellison's best work..."

—The Fix

"...a title that rules. ...psychic vampirism, creepy street performers, the horrors of small coastal towns. And Smith took the story somewhere that surprised me. The twist is sustained."

—Tangent Online
Check out here for the complete story behind the movie, including a trailer, photos from the shoot, and some very cool sketches used in the film.