Submitted by
Douglas Smith
on Sun, 2009/04/19 - 8:17pm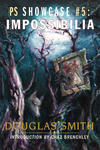 Liviu Suciu at Fantasy Book Critic has added a review of Impossibilia, my 2009 Aurora-nominated short fiction collection. Liviu uses Impossibilia to kick off a new series of mini-reviews "in the spirit of showcasing less well known recent sff works that truly impressed me."
Here's what he had to say about the collection:
"'Bouquet of Flowers in a Vase, by Van Gogh' is the piece of resistance of the collection and one of the best and most moving novellas I have read in a while. Haunting and evocative... Just astounding.

'Going Down to Lucky Town' [is] a very moving story about a part time gambler, part time con-man who seems to have gotten down luck to a measurable skill. ...Another superb story that made this volume such an unforgettable one for me.

If you can get hold of this relatively rare collection you will truly enjoy it. Highly, highly recommended."

—Liviu Suciu, Fantasy Book Critic, Apri 2009
Read reviews and excerpts of Impossibilia here.