Submitted by
Douglas Smith
on Mon, 2018/07/23 - 7:27pm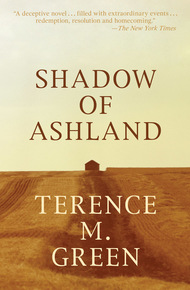 I'll be spotlighting the authors and books in the current Aurora Award ebook bundle from Storybundle over the next couple of weeks. Today we're starting with an interview with Terence M. Green, author of Shadow of Ashland, the first book in Terry's Ashland trilogy.
Here are three questions and Terry's answers:
Terry, is there something in this book that you consider to be particularly Canadian or that Canadians would relate to or recognize?
I'm Toronto-born and raised. My parents were Toronto-born and raised. My father's parents were Toronto-born and raised. My mother's parents were small-town Ontario-born and raised. Our Canadian roots pre-date Confederation.
More Canadian context… CBC Radio broadcast a dramatic reading of the novel spread over 10 days to over 400 stations nation-wide, back in 2002 on Between the Covers. And it was taught in the SF course (English 237) at the University of Toronto in the late 90s.
What was your strongest memory about writing this book?
The opening sentence of the novel is "My mother died on March 14, 1984." This is true. The first 40 pages or so of the novel are about 80% true. At that point, it veers into purer fiction, but when I'm asked how much of the book is "true," I've been known to answer, "It's all true. Not all of it happened, though."
After my mother passed, I found 4 old letters and cards from the 1930s in a chest at the foot of her bed. They were from her brother, Jack, who disappeared down into the States in the 1930s and was never heard from after 1934. The writer in me saw the drama, based on those letters, and the story began to evolve from there. There are 10 letters woven into the novel. The first 4 are those found letters. I made the others up, using those first 4 as my guide.
The narrator, her son Leo (a fictional persona), tries to find Jack, ends up leaving Toronto for Ashland, Kentucky, and ends up there in 1934.
What was your biggest surprise in writing this book?
As well as the Aurora Award nomination (twice, 1996, 1997), it received a World Fantasy Award nomination for Best Novel in 1997 as well. Curiously, one of the other nominees that same year was a book titled A Game of Thrones. Pretty good company.
So… Lots of Canadian vibes both in and surrounding the novel… Memories galore, nearly all involving family… And the biggest surprise: how well the book was received. I think of it as the little book that just kept on growing. I'm hoping it never stops.
~~~
I hope the same, Terry. And I also hope that readers will drop by the Aurora Award ebook bundle page and check out Shadow of Ashland and the other nine titles, all award winners or finalists, that are available for a great bargain...but only until August 9.