Submitted by
Douglas Smith
on Sun, 2010/09/19 - 11:25am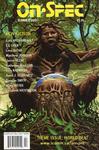 Note: this story is no longer available online. If you're interested in reading it, please check out the ebook version in my online store.
---
I've just posted a new online story, "The Red Bird." This story first appeared in the excellent Canadian speculative fiction magazine, On Spec in what was called their "World Beat" issue (see original cover to the left), featuring stories set in different locales around the world. My story is set in what may or may not be late fourteenth-century Japan, and is included in my collection, Chimerascope. The story will remain online for about a month. If you like it, you can check out excerpts of other stories in Chimerascope and order it in trade paperback or ebook format from the store.
"A spellbinding piece of writing set in a Japan-that-never-was that is both well-plotted and elegantly paced"

—Strange Horizons, June 2010

"A superbly told, involving, and brilliantly paced short story, complete with an ending made more tragic by its inevitability... Worth the price of the issue."

 

—Tangent Online, August 2001

"A mini-epic... If you love Japanese and Samurai stories, this one will give you goose bumps."

—Tangent Online, May 2005
Enjoy, and feel free to leave a comment on the story or send me feedback.