Submitted by
Douglas Smith
on Tue, 2017/11/14 - 4:46pm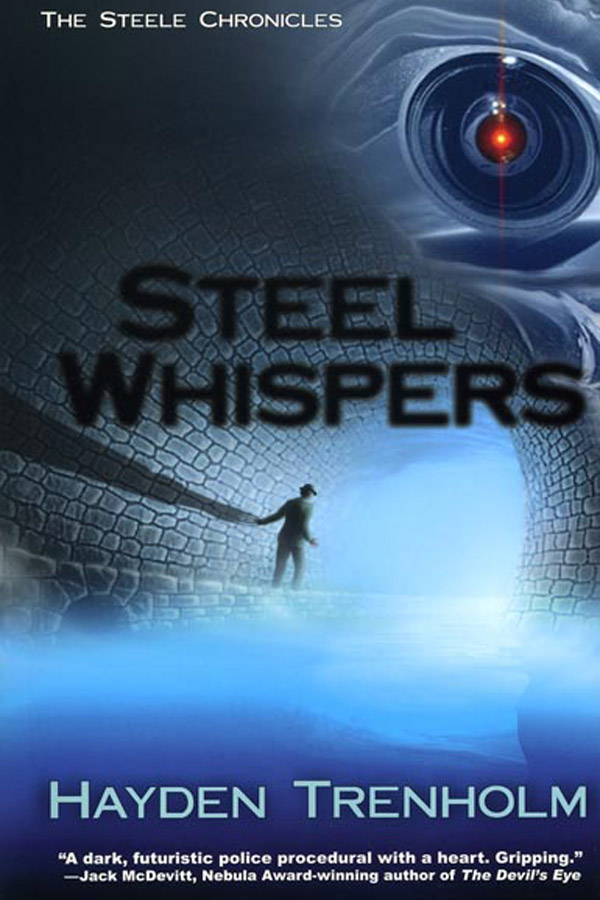 I continue my series of posts spotlighting the current ebook bundle of winners and finalists for Canada's premier speculative fiction award, the Aurora Award. Today we have an interview with Hayden Trenholm talking about his novel Steel Whispers, the second book in The Steele Chronicles trilogy.
Steel Whispers combines classic noir with near-future science fiction in this police procedural tale of a series of murders in a society increasingly divided by evolving cyborg and genetic technology.
1. Who is your favourite character in this book and why?
Like all the Frank Steele novels, this one is told from multiple points of view; Frank in first person, all the rest in third. It would be easy to say that Frank is my favourite—after all, I wrote three books about him.
However, I have a real affection for Buzz Wannamaker, the Aboriginal cyborg from northern Alberta. He has a teasing sense of humour and is the closest thing to an action hero in the book (Frank is in his mid-fifties and badly out of shape). Buzz's philosophy combines a strong sense of the social outsider with a deep desire to be part of something larger than himself. Much of this book is about what constitutes a family and Buzz, more than anyone else, understands that often the best families are ones we build ourselves.
2. What's your favourite relationship between two characters in this book and why?
My favourite relationship is between Frank and his dead son. No spoiler alert there, as Frank discovers his son's body at a crime scene in the first chapter. His gradual discovery of who his son was and why he was the way he was drives the entire action of the book. Suffice to say, by the end Frank knows Joshua better than most father's ever know their sons and in ways that almost no one can imagine.
3. Is there something in this book that you consider to be particularly Canadian or that Canadians would relate to or recognize in terms of sensibilities, world view, societal beliefs, etc.?
The setting of course is purely Canadian in the city of Calgary and the country that surrounds it. Beyond that, a lot of the themes have to do with fairness and social justice, a belief that a society where everyone has a chance—and not just the rich—is a better place for everyone. The book is also very much about how you construct an inclusive society, rather than one that only works for those in the privileged class.
4. When did you know you'd be writing this story as a series? When you began the first book? During the first book? After the first book was finished?
I call the Steele Chronicles my accidental trilogy. I had no intention of writing a second novel (let alone a third one) until my publisher asked me to take it on. As a result, Steel Whispers is as much of a stand-alone book as Defining Diana and, I think, can be read without knowing much of what happened in the first. While some characters, like Steele and Wannamaker are carryovers from the first book, most of the others are brand new or had very minor roles in book one. The same by the way can be said—up to a point—about book three, Stealing Home.
And a short bio for Hayden:
Hayden Trenholm is an award-winning playwright, novelist and short story writer. His short fiction has appeared in many magazines and anthologies and on CBC radio. His first novel, A Circle of Birds, won the 3-Day Novel Writing competition in 1993; it was recently translated and published in French. His trilogy, The Steele Chronicles (Defining Diana, Steel Whispers and Stealing Home), were each nominated for an Aurora Award. Stealing Home, the third book, was a finalist for the Sunburst Award.

Hayden has won four Aurora Awards – twice for short fiction and twice for editing anthologies. He purchased Bundoran Press in 2012 and is its managing editor. He lives in Ottawa with his wife and fellow writer, Elizabeth Westbrook-Trenholm.
Check out the bundle here for more information and details on each of the included titles. And remember, it's available for a very limited time only, from now until November 30 at midnight.
#SFWApro