Submitted by
Douglas Smith
on Tue, 2017/11/14 - 5:22pm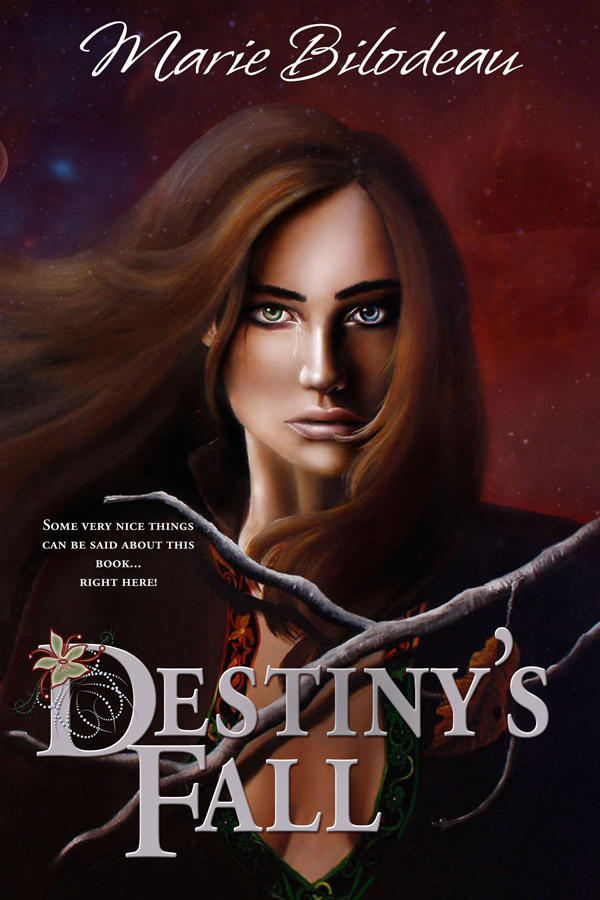 Next up in my spotlight series on the current ebook bundle of winners and finalists for Canada's Aurora Award, is an interview with Marie Bilodeau discussing her novel, Destiny's Fall.
Destiny's Fall, the second book in Marie's Destiny Trilogy, begins five years after Destiny's Blood. In this SF space adventure with a feel of myth and legend, Layela is again in danger, this time from both the ruling empire and a usurper within her own world of Mirial. Here's the interview with Marie:
1. Who is your favourite character in this book and why?
I'd say that my favourite character is Captain Avienne Malavant. She's insane, unpredictable, and yet very loyal to those she considers family. In this book, she's found her own way and is busy forging her own quirky family, all under the long shadow still cast by her life on the Destiny.
Plus, she likes throwing knives, which just isn't that advisable, and drinks more than she should, all while captaining her own rusty spaceship. How could I not love her best?
2. Is there something in this book that you consider to be particularly Canadian or that Canadians would relate to or recognize in terms of sensibilities, world view, societal beliefs, etc.?
I realize this is more along Canadian idealism than the reality reflected across our large wintry country, but accepting other's beliefs and backgrounds as part of what they bring that's unique and special to a place, as opposed to expecting them to just become like everybody else.
Early on, Avienne rescues a Slont, a very different race from her own. He doesn't bring special powers to the equation, nor does he really have special knowledge. But he has heart, and is willing to fight for what he believes in, and for her, that's enough.
I like to believe that most in Canada are not hoping to "melt in" all other cultures (whatever the hell Canadian culture itself might be), but that we can find common footing among all of our differences, and move forward together.
3. What's your strongest memory about writing this book?
It's not about the book itself so much as the writing of it. I was having such a hard time finishing it up. I couldn't find enough time, or motivation, or headspace. Eventually, I found a free weekend, from Friday evening to Monday about noon.  I booked a convent near Montreal (an ideal TV and Internet free retreat!), and I hid there.  In that time, I don't think I slept. I remember wandering the dark halls in the wee hours of the morning looking for some form of caffeine.  I would hear the morning prayer chants traveling through the heaters, and I hadn't slept yet.  I'd try to get some sleep but the story demanded, begged to be written. So I wrote.  A lot.
That weekend, I wrote 45,000 words, and finished the book.  It needed lots of love, but it was done. I've never replicated that level of productivity (insanity?), nor do I know if I could. Or would want to. Took a while for my brain to click back into "real world mode." But I got it done, which is what mattered.
4. When did you know you'd be writing this story as a series? When you began the first book? During the first book? After the first book was finished?
The first book in the series, Destiny's Blood, had a very final epilogue. My editor, Gabrielle Harbowy, asked me to rewrite, saying the readers wanted to get the chance to imagine the future of the characters. I loved that idea, so I rewrote.  Then, a few months later, Gabrielle asked for a couple more books in the series.
There was certainly more story to mine (there still is!), so I kept on mining. I have more ideas for Destiny, which someday may see the light of day. There are many more songs to be written in this fast-paced space opera world.
5. The Destiny series was translated into French, which is your mother tongue, so you actually got to read it.  Did you translate it yourself?  And what were some of the noted differences between the two books?
It's a treat to have them in French, especially by a great editor like Les Éditions Alire.  I didn't translate them myself, but they were translated by the amazing Élisabeth Vonarburg.  It was an amazing process. Élisabeth, who's a celebrated novelist (if you don't know her, you need to change that immediately. She's a force of Canadian SF, and many of her titles are available in English).  She was tough, and it was like going through the editing process all over again, but (I dare say), the French books are better because of it. I was early on in my career, after all, and some of the mistakes were fixed by her eagle eye.
The title changes were fun, too.  In English, we focus (and play on the double entendre) of Destiny, which is actually the first ship. In French, the editor asked that we focus on Mirial, which is the mystical First Star of which Layela Delamores becomes Keeper, and is the main focus of all three books.
The French versions were picked up all at once, after all, so they saw the length of the series, and marketed accordingly.  Different than in their original English versions, where book 1 was out before book 2 was even under contract.
And a short bio for Marie:
Marie was born in Montreal (Canada) to a family with nomadic tendencies. As a result her childhood was spent roaming from town to town in Eastern Ontario. In 1996 she roamed further west in the province, attending Wilfrid Laurier University in Waterloo. Along with earning a Bachelor's Degree in Religion and Culture with a minor in Archaeology (fields she has never once come close to working in, although they do come in handy for plot development), she also served two terms as President of the school's Science Fiction and Fantasy Club, an honor that she will never live down. Not that she cares to.

When not writing fantasy novels, Marie can be found engaged in the act of storytelling in any location where two or more people have gathered. She tells mostly original stories of her own creation or adaptations of fairy tales and myths. Visit her official website at www.mariebilodeau.com.
Check out the bundle here for more information and details on each of the included titles. And remember, it's available for a very limited time only, from now until November 30 at midnight.
#SFWApro