Submitted by
Douglas Smith
on Mon, 2015/03/23 - 9:58pm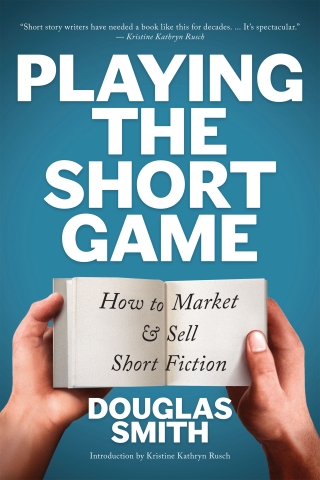 The nomination period is now open for the 2015 Aurora Awards, recognizing the best of Canadian SF and Fantasy.
This year, my writer's guide, Playing the Short Game: How to Market & Sell Short Fiction, is eligible to be nominated. Your support would be truly appreciated.
Any Canadian citizen or permanent resident may nominate for the Auroras. If you're interested in nominating but haven't read the book, I'd be happy to send you a PDF copy for your review. Just email me. You can also check out all of the eligible works at the Aurora Award site.
"We short story writers have needed a book like this for decades. ... It's spectacular." —Kristine Kathryn Rusch, Award-winning Author & Editor
How to Nominate
To nominate, you need to be a member of the Canadian SF & Fantasy Association. If you've registered in the past, then simply log in here with your 4-digit society number and password. If you've forgotten those, just click on "Forgot your password?" to be emailed your ID and a new password.
If you've never registered, click here to register.
The Auroras require an annual fee of $10, allowing you to both nominate (this step) and vote on the final ballot--not much to pay to support Canadian SF & fantasy.
Once you're logged in, click on the "Pay Now" button to be taken to a PayPal screen. Don't use PayPal? Just click on "Don't have a PayPal account?" and pay by any debit or credit card.
You'll then be taken back to the Awards site. Click on the "Aurora Awards" link at the top and select "Nominate" from the drop down menu to access the online nomination form. My book is eligible under "Related Work", and the information you need to enter is as follows:
Title: Playing the Short Game: How to Market & Sell Short Fiction
Author: Douglas Smith
Publisher: Lucky Bat Books
The nomination period closes at 11:59 pm on Saturday, April 25, 2015.
Thanks again for any consideration!
#SFWApro