Submitted by
Douglas Smith
on Thu, 2017/09/07 - 5:49pm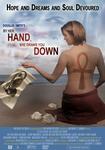 Very cool! This trailer has been around for quite some time but I didn't know it was on IMDB (Internet Movie DataBase) until I stumbled over it recently. Well, actually Google Alerts stumbled over it for me.
It's a trailer for the short independent film "By Her Hand, She Draws You Down" based on my story of the same name, directed by Anthony Sumner, produced by Allan Rowe Kelly, and starring Zoe Daelman Chlanda and Jerry Murdock.
I've always loved the job that Anthony did with the screenplay and directing this film, as well as the work by the entire cast. As the review on IMDB states, his film is "lyrical and haunting...a near-textbook example of subtlety that is missing in so many genre films today."
More info can be found here on the film and its many award showings when it first toured festivals. My original story was a finalist for the Aurora Award and was a Best New Horror selection in 2013.