Submitted by
Douglas Smith
on Tue, 2016/05/03 - 3:02pm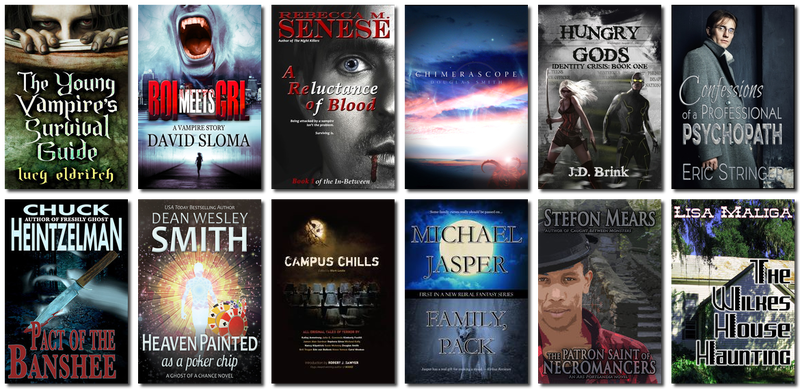 I'm experiencing an embarrassment of riches of late. My collection, Chimerascope, is part of another new ebook bundle from BundleRabbit. This bundle is called "Chills, Thrills and Spills." It's a great collection and bargain (even if they don't use the Oxford comma...sigh) and is available here.
The 12-book bundle offers over $60 worth of novels, novellas and short stories. It's a bundle that is "guaranteed to make you feel uncomfortable, create that sense of 'something-isn't-right-here' or just plain scare you. The 'Chills, Thrills and Spills' bundle covers horror, thrillers and fantasy and is sure to keep you awake at night."
$5 gets you the first six books. Pay more than $12 and you'll get six additional books, including "a short story anthology featuring Kelley Armstrong, James Alan Gardner and others" (one of the "others" is me. The antho in question is the excellent Mark Leslie-edited Canadian horror anthology, Campus Frights, which includes my Springsteen-titled story "Radio Nowhere."). Plus "a collection from an Aurora winner author" (uh, that would be me again) and best-selling writer, Dean Wesley Smith. And, I'll add, if you want more Canadian content, the wonderful Toronto writer, Rebecca Senese, also has a book in the bundle, A Reluctance of Blood.
Ebook bundles like this one (and Zombies and Monsters and Gods, posted yesterday) offer a great way to pick up great books at an incredible savings, as well as letting you discover new authors while enjoying some of your favourites. I hope you'll check out the bundle here.