Submitted by
Douglas Smith
on Tue, 2017/11/14 - 4:17pm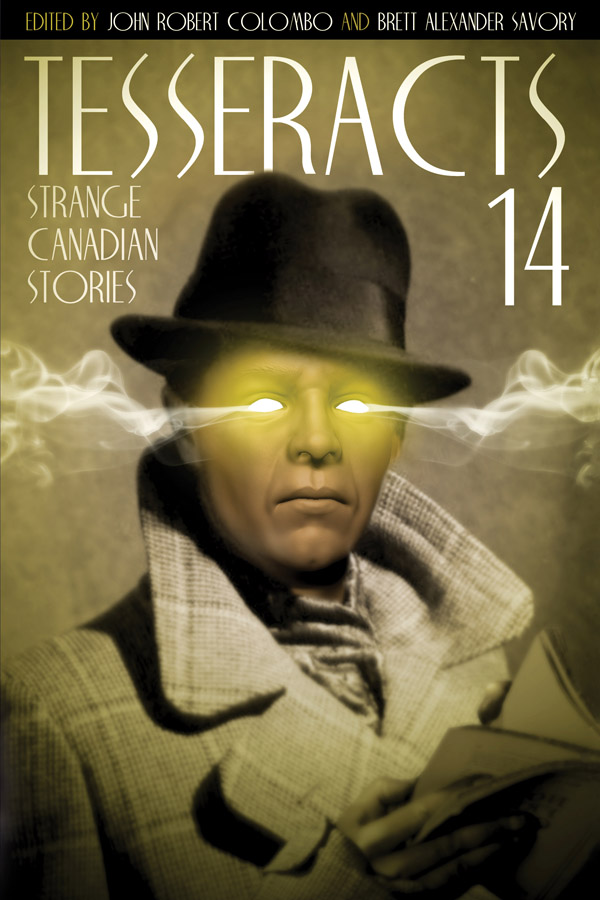 Next in my spotlight series on the current ebook bundle of winners and finalists for Canada's premier speculative fiction award, the Aurora Award, is an interview with Brett Alexander Savory, who along with John Robert Colombo, edited the anthology, Tesseracts14.
The Tesseracts series of anthologies is Canada's longest running, year after year showcasing the best in Canadian speculative short fiction. Tesseracts14: Strange Canadian Stories is no exception, with 23 amazing tales from some of the brightest lights in Canadian genre fiction.
1. Aside from being excellent examples of Canadian spec fic, was there something specific as editors you were looking for when selecting stories for this antho? Or did a unifying theme or tone emerge as you assembled the stories?
I think a particular brand of strangeness emerged as we read, so we might have leaned in that direction, yeah. Hence the subtitle: Strange Canadian Stories.
2. What is your strongest memory from editing this anthology / assembling this collection?
I remember most that I thought John and I would diverge greatly in some respects with regard to what content would appeal to us for this antho, but we were on the same page entirely, so there was really no disagreement at all about what should be included.
3. Is there something in these stories that you consider to be particularly Canadian or that Canadians would relate to or recognize in terms of sensibilities, world view, societal beliefs, etc.?
I don't think there's anything particularly Canadian about the stories, no. I've never been all that interested in that aspect of things; I always just want the best stories I can find for any anthology or magazine I'm editing. Since the authors are all Canadian, I'm sure that sensibility is in there, regardless, but we didn't seek it out.
4. What music would be the ideal listening soundtrack for readers for this book?
Hmm, I dunno. Slayer is always a good bet for anything I'm involved in, so let's go with that. *laughs* ;-)
Here are short bios for Brett and John:
Mr. Colombo is the Toronto-based author and anthologist whose byline has appeared on over 200 books of quality. These range from volumes of poetry to compilations of quotations. Colombo has been variously dubbed: "The Master Gatherer" for his compilations of Canadiana; "John 'Bartlett' Colombo" for his 'quote books; "Canada's Mr. Mystery" for his collections of told-as-true ghost stories; and,"Superfan" for his pioneering interest in Canadian fantastic literature. John is a towering presence in Canadian letters, a member of the Order of Canada – Canada's equivalent of knighthood – and is Canada's premiere folklorist and collector and compiler of Canadiana, as well as a significant poet, broadcaster, editor, and publisher.

Brett Alexander Savory is the Bram Stoker Award-winning Editor-in-Chief of ChiZine: Treatments of Light and Shade in Words, Co-Publisher with Sandra Kasturi of ChiZine Publications (CZP), has had nearly 50 short stories published, written two novels and penned the foreword to Tesseracts Twelve. In 2006, Necro Publications released his horror-comedy novel The Distance Travelled. September 2007 saw the release of his dark literary novel In and Down through Brindle & Glass, and November brought his first short story collection, No Further Messages, released through Delirium Books. In the works are three more novels. When he's not writing, reading, or editing, he plays drums for a band that his wife wants him to call Magic Pussy. Acknowledged by Quill & Quire's "Best Books of the Year" list in 2007 for his novel In and Down, Brett lives in Toronto with his wife Sandra Kasturi, whose writing has been featured in previous Tesseracts anthologies.
Check out the bundle here for more information and details on each of the included titles. And remember, it's available for a very limited time only, from now until November 30 at midnight.
#SFWApro