Submitted by
Douglas Smith
on Sat, 2017/11/11 - 3:13pm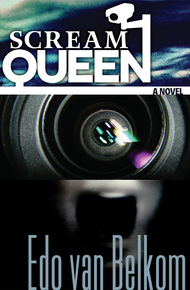 I wrote earlier this week about the third ebook bundle of winners and finalists for Canada's premier speculative fiction award, the Aurora Award, that I'm curating for StoryBundle. The bundle runs to November 30, and over the next couple of weeks, I'll be highlighting the various books in the bundle by posting a serious of short interviews with the authors.
First up is Edo van Belkom, winner of the Bram Stoker Award and two-time winner of the Aurora. Edo's bundle entry is Scream Queen, a fun and creepy romp that uses reality TV to put a dark twist on the haunted house genre.
1. Who is your favourite character in this book and why?
I really enjoyed writing about the Gowan brothers. Throughout the writing of the novel I pictured Bruce Campbell and Jack Black playing the brothers. SCREAM QUEEN was optioned once, but it never got to the point where I could make that suggestion.
2. What was the toughest scene to write in this book and why?
The toughest scene to write was right at the end. There is a way all these types of stories end and I didn't want to do that. As it turned out, I think most people like it when stories are not turned on their ear. I'd still do it again. I always thought the Gowan brothers were the real heroes of the book, even though they might be slimy they come out unscathed… which one can argue is somewhat the way the world turns.
3. What's your favourite scene in this book and why?
I had a blast writing the scenes with the production crew as things were getting worse and worse in the house. I had to make it reasonable that people would stick around and continue to operate in the face of mounting horror. More money offered to the crew seemed to solve a lot.
4. What was the biggest surprise writing this book?
Authors often say the book practically wrote itself and I must say that was the case with SCREAM QUEEN. I knew where it was going so getting to that point was fairly easy to write and a lot of fun. I knew all along who was going to make it and who wasn't and I'm proud to say I stuck with that til the very end.
And a short bio for Edo:
Edo van Belkom, a former reporter on the sports and police beats for newspapers in and around Toronto, arrived on the horror scene in 1990. His first short story sale, "Baseball Memories," was selected for the prestigious Year's Best Horror Stories edited by Karl Edward Wagner. The story was also nominated for Canada's prestigious Aurora Award and appeared with work by Mordecai Richler and W. P. Kinsella in The Grand Slam Book of Canadian Baseball Writing.

Van Belkom hasn't looked back since. Some 150 short stories have sold to a variety of top magazines and anthologies. He has twice won the Aurora Award, taken home the Bram Stoker Award once, and been a finalist on many other occasions in a variety of categories spanning his work as a novelist, anthologist, and non-fiction author. His YA novel Wolf Pack won Ontario's prestigious Silver Birch Award. You can read more about Edo and his other books here.
Check out the bundle here for more information and details on each of the included titles. And remember, it's available for a very limited time only, from today until November 30 at midnight.
#SFWApro