Submitted by
Douglas Smith
on Tue, 2017/11/14 - 2:07pm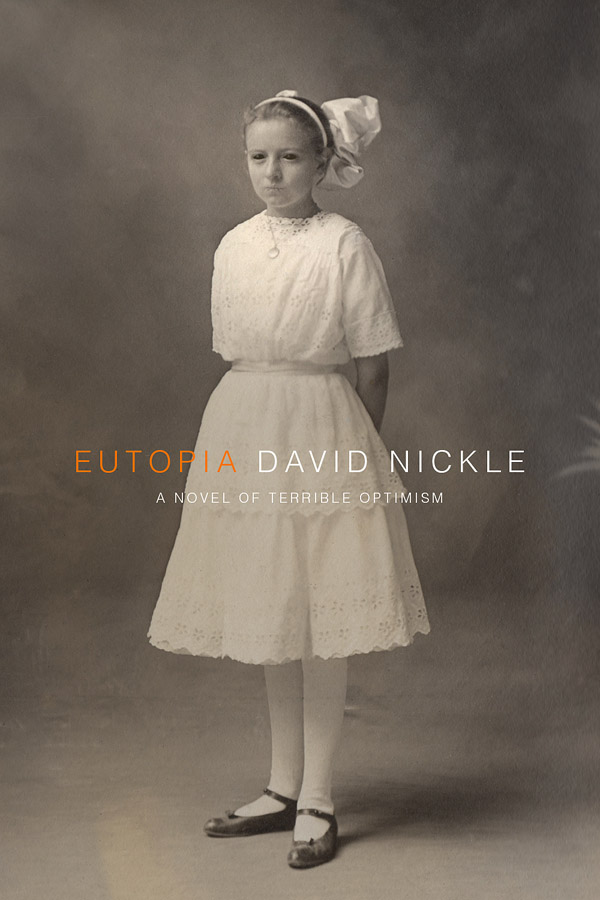 Next in my interview series on the current ebook bundle of winners and finalists for Canada's premier speculative fiction award, the Aurora Award, is David Nickle with Eutopia: A Novel of Terrible Optimism.
Set in the early 1900's in Idaho, Eutopia, the first in a two-book series, delivers a dark and wonderfully creepy tale of eugenics, the supernatural, and a quest for human perfection gone horribly wrong. Here's the interview with Dave.
1. Who is your favourite character in this book and why?
I actually like a lot of the characters in Eutopia and don't want to offend any of them. Germaine Frost, the nurse who's on a mission for the Eugenics Records Office and rescues her orphaned nephew Jason from poverty and isolation was about the most fun to write. Andrew Waggoner, the black physician who's instrumental in unravelling the biological mystery of the Juke organism in Eliada, Idaho, was a character that I loved and admired in the writing.
But ultimately, I've got to go with Jason Thistledown, a kid who struggles with his family's dark legacy and also with a genetic legacy that may set him apart from everybody. I saw in Jason a strength and innocence that had me rooting for him, even when the story as I was writing was doing its best to kill him.
2. Is there something in this book that you consider to be particularly Canadian or that Canadians would relate to or recognize in terms of sensibilities, world view, societal beliefs, etc.?
Eutopia is set in the United States, in 1911 – a large part of it a day's paddle from the Canadian border in north Idaho. But that's as Canadian as the setting and characters get. The book is about America – the crazy optimism at the country's frontiers that turned into a sickened mixture of American boosterism and ambition, and the very much unresolved matters of race and class inequalities. I'm tempted to say that the Canadian character in the book is one of perspective: it takes a critical look at the fallacy of the early American eugenics movement, and self-serving utopianism. The nature of the parasitic creatures known as Jukes might be seen as a vehicle to advance that oh-so-Canadian argument for atheism.
Rational and inclusive and secular: that's the Canadian perspective, taken from our moral high ground. Would that we had that high ground. Canadians participated in forced sterilization of the disabled, the cultural genocide of the residential school system. We pray to strange gods here too.
One thing that might be uniquely Canadian: the book opens on one of its protagonists, Jason Thistledown, during a bad winter on a farm after the death of his mother. That used to be big in Canadian literature.
3. What music would be the ideal listening soundtrack for readers for this book?
There's a range of music: some American orchestral music, like Aaron Copeland's Apalachian Spring suite. Some of the Jurassic Park music that John Williams composed, Khachaturian's Spartacus music, Respighi's Pines of Rome / Fountains of Rome suite also captures the terrible optimism of American utopias that I was after in Eutopia. You won't go wrong with Fleet Foxes—generally, for the north-western mood of the book, but thematically in particular, "White Winter Hymnal" and "Helplessness Blues."
4. Did you know you were writing a series when you first began this book, or did the idea of a series grow from the telling of this book?
Eutopia is now part of a series of two books—its sequel, Volk: A Novel of Radiant Abomination is out now. But I didn't plan it that way; I thought that Eutopia would be a nifty little stand-alone story, and when it appeared in 2011 I had no plans to write any more in that world. So I published two unrelated books after that (one, Rasputin's Bastards, was previously written, and the next, The 'Geisters, was written after Eutopia). Yet certain ideas nagged at me in the aftermath: science-fictional questions of exactly how the Jukes in Eutopia would exist in the larger world outside of the isolated mill-town of Eliada, and also some of the cognitive/theological implications of the Juke species. It became clear that even if the world didn't need another Juke novel, I needed to write one. And who knows? Maybe the world did need one. Only one way to find out...
And a short bio for Dave:
David Nickle is a Toronto-based author and journalist whose fiction has appeared in magazines, websites and anthologies like Tor.com, Cemetery Dance, The Year's Best Fantasy and Horror, Children of Lovecraft, The Madness of Dr. Caligari. Some of it has been collected in his book of stories, Monstrous Affections.

His first solo novel, Eutopia: A Novel of Terrible Optimism, led the National Post to call him "a worthy heir to the mantle of Stephen King." His novel Rasputin's Bastards was called supernatural eeriness at its best. The novel The 'Geisters was published in 2013, followed by the collection Knife Fight and Other Struggles. Volk: A Novel of Radiant Abomination, the sequel to Eutopia, was released in fall 2017.
Check out the bundle here for more information and details on each of the included titles. And remember, it's available for a very limited time only, from now until November 30 at midnight.
#SFWApro