Douglas Smith
- Sun, 2014/03/16 - 12:59pm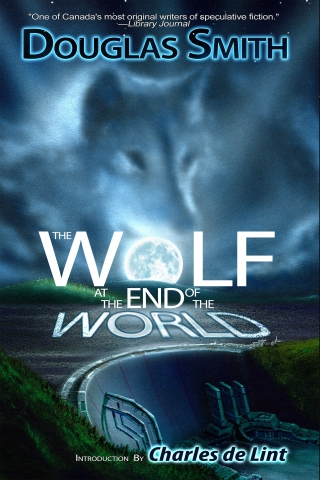 The nomination period is now open for the 2014 Aurora Awards, the official awards of the Canadian SF and Fantasy Association.
This year, my debut novel, "The Wolf at the End of the World," is eligible under the "Best Novel — English" category. Your support by way of a nomination would be truly appreciated, especially this year for my first foray into the novel world. 
You can read the first four chapters of the book online on my website.
If you'd like to buy the book, I'm offering a special discount during the nomination period of 50% on the ebook. To get that discount, download the ebook  from my online bookstore and use the coupon code "AURORA2014" at checkout. The ebook is available in all formats: .mobi (Kindle), .epub (every other ebook reader), or PDF.
Here's what the reviews have said about The Wolf:
" [Smith] creates an immersive and enjoyable reading experience. Readers will delight in learning more about Native American mythology, which is skillfully woven throughout the story. Smith's novel is both well paced and deftly plotted—leaving readers curious about what comes next for the Heroka in the modern world. "  

—Publishers Weekly

 

"Given the number of awards Douglas has won for his short stories, it's hardly surprising he's written such a fabulous book and it's lovely to be able to say so, unreservedly. I really enjoyed 'The Wolf At The End Of The World' and I'm happy to have a copy to put on my shelf. With adventure, intrigue, shape-shifters, family, a touch of romance and a lot of heart, this is a book I'd recommend for readers of all genres." 

— Kelly Jensen, SF Crowsnest

 

" I can't remember the last time I read a book that spoke to me, so eloquently, and so deeply, on so many levels. ... I'll be rereading it in the future because it's that sort of book. Richly layered and deeply resonant. An old friend, from the first time you read it."

— Charles de Lint, World Fantasy Award winner
How to Nominate
To nominate, you need to be a member of the Canadian Science Fiction and Fantasy Association (CSFFA). If you've registered in the past to nominate or vote for the Auroras, then you're already a member, and you can simply log in here with your 4-digit society number and your password. If you've forgotten your society number or password, just click on "Forgot your password?" link and follow the instructions.  You'll be emailed your society number and a new password.
If you've never registered before, then click here to become a CSFFA member. Your 4-digit membership id and password will then be emailed to you.
The Auroras now require a registration fee of $10 each year, which allows you to both nominate (this step) and to vote for the stories that make the final ballot. Yes, I'm sorry about that, but if you're serious about Canadian SF & fantasy, it's not that much to pay to support the genre, is it?
I hope not. Once you've registered and logged in, click on the "Pay Now" button and you'll be taken to a PayPal screen. You don't have to have a PayPal account to pay this way! Just click on "Don't have a PayPal account?" and you'll have the option of paying by any form of debit or credit card.
Still with me? Once you've paid, you'll be taken back to the Aurora Awards site. Click on the "Aurora Awards" link at the top and select "Nominate" from the drop down menu. You'll be taken to the online nominations form. My novel is eligible under "Best Novel — English", and the information you need to enter is as follows:
Title: The Wolf at the End of the World

Author: Douglas Smith

Publisher: Lucky Bat Books
Any Canadian citizen (not necessarily living in Canada) or permanent resident may nominate for the Auroras. The nomination period closes by end of day on Saturday, April 12, 2014.
Thanks again for any consideration!