douglassmith
- Tue, 2013/04/02 - 7:33pm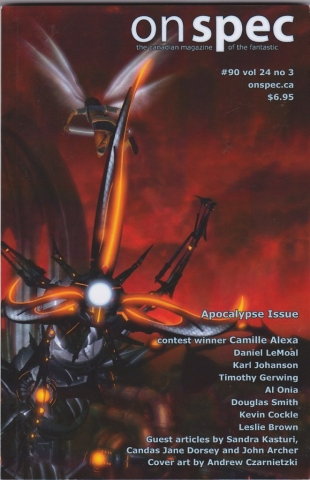 The nomination period is now open for the 2013 Aurora Awards, the official awards of the Canadian SF and Fantasy Association.
This year, my fantasy short story, "The Walker of the Shifting Borderland," is eligible under the "Short Fiction" category. Your support by way of a nomination would be truly appreciated. You can read the story online on my website, or you can download a free copy from my online bookstore (use the coupon code "FREE-WALKER") in any of .mobi (Kindle), .epub (every other ebook reader), or PDF formats.
"A very different sort of tale. ... A cosmic story of gods which seems to be inspired by the works of Michael Moorcock, and I think he would not be ashamed of it."  —SF Crowsnest Reviews

"A tale of epic love when a mortal gets caught between a battle of the gods. Smith reminds us that we have the potential to change the world around us and that self-sacrifice can be a means of making the world around us better." —Speculating Canada
How to Nominate
To nominate, go to the Aurora site at http://www.prixaurorawards.ca/Membership/index.php.
If you've registered in the past to nominate or vote for the Auroras, you can simply sign in with your email address and your 4-digit society number. If you've forgotten your society number, just click on "Forgot your Society Number?" link and follow the instructions. 
If you've never registered before, click on "Register" under "Become a Society Member," and complete the registration form.
The Auroras now require a registration fee of $10 each year, which allows you to both nominate (this step) and to vote for the stories that make the final ballot. Yes, I'm sorry about that, but if you're serious about Canadian SF & fantasy, it's not that much to pay to support the genre, is it?
I hope not. Once you've registered and logged in, click on the "Pay Now" button and you'll be taken to a PayPal screen. You don't have to have a PayPal account to pay this way! Just click on "Don't have a PayPal account?" and you'll have the option of paying by any form of debit or credit card.
Still with me? Once you've paid, you'll be taken back to the Aurora Award site. Click on the "Online nominations" link to go to the nominations form. My story is eligible under "Short Fiction" and the information you need to enter is as follows:
Title: The Walker of the Shifting Borderland

Author: Douglas Smith

Publication: On Spec
Any Canadian citizen (not necessarily living in Canada) or permanent resident may nominate for the Auroras. The nomination period closes by end of day on Monday, April 15, 2013.
Thanks again for any consideration!